Are you a fan of Chainsaw Man? Since its first episode was released, everyone has been buzzing about the anime series based on the manga. The anime, which follows the tale of a young guy, his demon pet, and the debt he owes to the Yakuza, has enough imaginative aspects to keep viewers interested.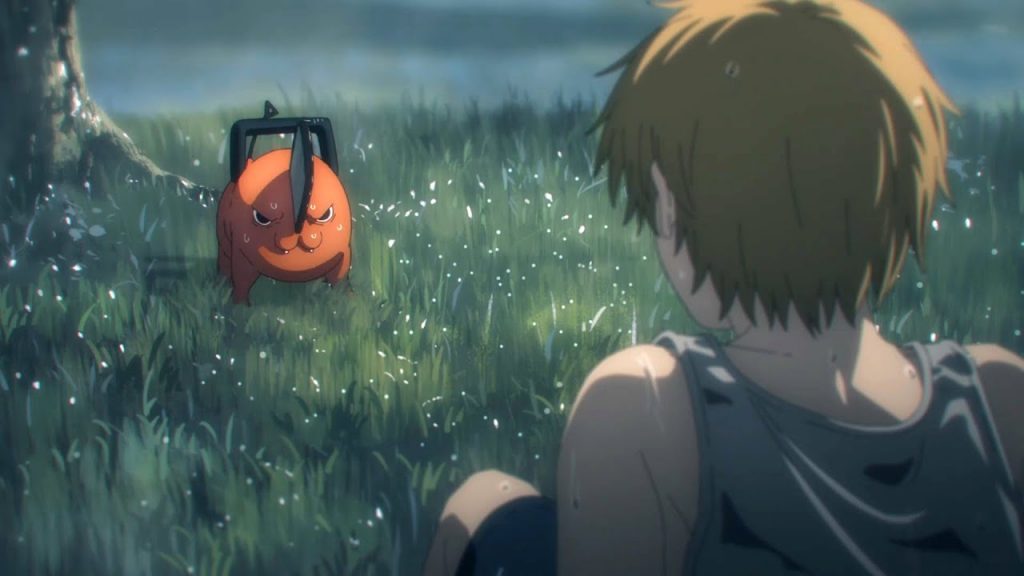 This blog is everything that you need to know about the show. It will give you a recap from episode 1 and what to expect for episode 2.
Chainsaw Man Episode 1 Recap
The first episode of Chainsaw Man showed a young man named Denji and Pochita residing in an abandoned shelter. Denji, who is struggling to pay off a debt of 38 million yen, has taken on different odd jobs and even "donated" portions of his body to get some additional income.
Denji quickly engages a crimson squid-like demon with several eyes and a vertical mouth, and the opening credits begin to roll. Out of all of his means of income, devil hunting pays the highest at about 300,000 Yen.
Denji is exposed to working for the Yakuza, hunting devils for basically nothing. Despite his abhorrent poverty, he hopes for a brighter future for Pochita and himself, including a romantic relationship.
Then, we learn how Denji and Pochita initially met. After Denji's father died, he left Denji a sizable Yakuza debt when he was just a little boy. He has had to repay that debt ever since his father's burial. While his father was still alive and close, Denji saw a wounded Pochita, and after offering some of his blood to help the cute Chainsaw Devil heal, the two forged a friendship/contract.
Back in the present, the Yazkuza have persuaded Denji to enter an abandoned factory on the pretense that a devil is hiding inside. Yes, there is, but it turns out to be the Zombie Devil, with whom the Yakuza has a contract for demonic strength.
Back in the present, the Yazkuza have persuaded Denji to enter an abandoned factory on the pretense that a devil is hiding inside. Yes, there is, but it turns out to be the Zombie Devil, with whom the Yakuza has a contract for demonic strength.
Denji is horrifyingly dismembered, chopped up, and dumped in the garbage; nevertheless, his blood seeps into Pochita's corpse, and he remembers back when Denji promised to give his body if he ever perished in combat. Then, Pochita appears and speaks to Denji, he offers to become Denji's heart in return for revealing his dream.
The Zombie Devil sends his henchmen to devour Denji this time so that he cannot regenerate, but now that Denji has fully recovered, the Chainsaw Man's strength is finally ready to unleash. When Pochita's tail is pulled, chainsaws emerge from his head and limbs, and he starts slicing through the minions like he's playing Fruit Ninja by pulling the string. Denji kills the Zombie Devil and every one of his followers, leaving a scene of complete destruction.
Two men and a woman appear in a car and they are plainly not as horrified by the grimy scene in the factory as the typical person would be. Denji is standing behind and when they find him, the woman gently approaches him. Denji merely requests that she give him a hug, and she does it without hesitation. As soon as she catches him, the chainsaws fall from his body.
She admits to being a Public Safety demon hunter and offers Denji a human spot with her rather than murdering him as a devil. After consenting to breakfast, Denji agrees to accompany her. As the camera pans out as the titles roll, the two continue to look into one other's eyes.
What will happen in Episode 2 (speculative)
It can be predicted that in the following episode, two significant characters will appear. Fans will surely want to see this episode since both of these characters—who were either not present or not identified in the first episode—play significant roles in the remaining storyline of the series.
Beyond this, Denji will expose to what his life as a Public Safety Devil Hunter would be like. Unquestionably, it will be a better life than the one Denji was living with Pochita previously. Furthermore, the assurances made by the enigmatic woman at the conclusion of episode 1 imply that it is a whole new world for Denji, who is probably going to act well to stay there.
Denji may have to cope with new problems, new disputes, and obnoxious people as for starting a new life, though. Being a professional Devil Hunter, Denji is especially likely to encounter some incredible people along the route who have unusual circumstances, personalities, and backgrounds.
Fans may anticipate that Chainsaw Man episode 2 will mostly offer them a sense of how Denji's new life moving forward. Even though just one episode will barely describe the entire original series of Tatsuki Fujimoto, it will surely be an excellent way for fans to get a taste of what's to come.
We'll have a full review next week once we've had a chance to watch the second episode and see where things are going. In the meantime, that was a quick recap for you about what happened in episode 1. If you're looking for a horror anime that is sure to keep you entertained until the end, then we highly recommend checking out Chainsaw Man.
Our store offers official Chainsaw Man merchandise with best price for fans, order now: https://chainsaw-man.shop/.