Chainsaw Man is the most eagerly awaited anime of the year, despite the fact that the autumn anime season is crammed to the gills with isekai, mecha, and shonen series. Whether you're an Otaku or not, you've seen many hypes about the manga, and even calling it "peak fiction," and seen waves of hype flood your social media timeline in anticipation of its anime adaptation following suit to become the best of the year. Read our blog article below to know why "Chainsaw Man" deserves such attention.
Chainsaw Man was developed by Tatsuki Fujimoto, the mangaka who is also known as the writer and artist of Fire Punch. With the aid of his chainsaw devil called Pochita, destitute adolescent kid Denji survives by receiving tasks from the neighborhood yakuza to slay devils.
When his old boss is killed in an unceremonious manner a la Reservoir Dogs, Denji's luck appears to run out, but he gains the ability to transform into a chainsaw demon mysteriously. After working for the domineering and seductive Makima, Denji kills other devils as the dreaded Chainsaw Man.
On October 11, Chainsaw Man will begin streaming on Crunchyroll for those who want to watch in their own home for comfort.
Similar to how the studio Trigger recently reined in its infamously over-the-top action to not overshadow the emotional impact of its Netflix anime series Cyberpunk: Edgerunners, so too does Mappa as it sets the scene for Denji's hardscrabble existence and illustrates how his friendship with Pochita makes it worthwhile to live.
While the manga for Chainsaw Man is renowned for moving at a breakneck pace, the opening episode of the anime doesn't overpower the senses. Instead, it eases you into its brutal and fleetingly lovely universe, akin to soaking in a warm jacuzzi while anticipating being drenched in ice-cold water later. However, things are good right now, and future you will have trouble dealing with the emotional destruction that will occur. Given that Denji goes through a similar situation in the first episode, this is apt.
Denji's life is really miserable. Denji sells his kidney, right eye, and one of his own nuts to pay the rent after inheriting his father's debt. Denji's life is a never-ending series of hurts; on one occasion, he ate a guy's cigarette on a dare to earn a few dollars. Nevertheless, he keeps his mind that his ambitions would come true someday, and that's the brightness to help him from the darkness of life.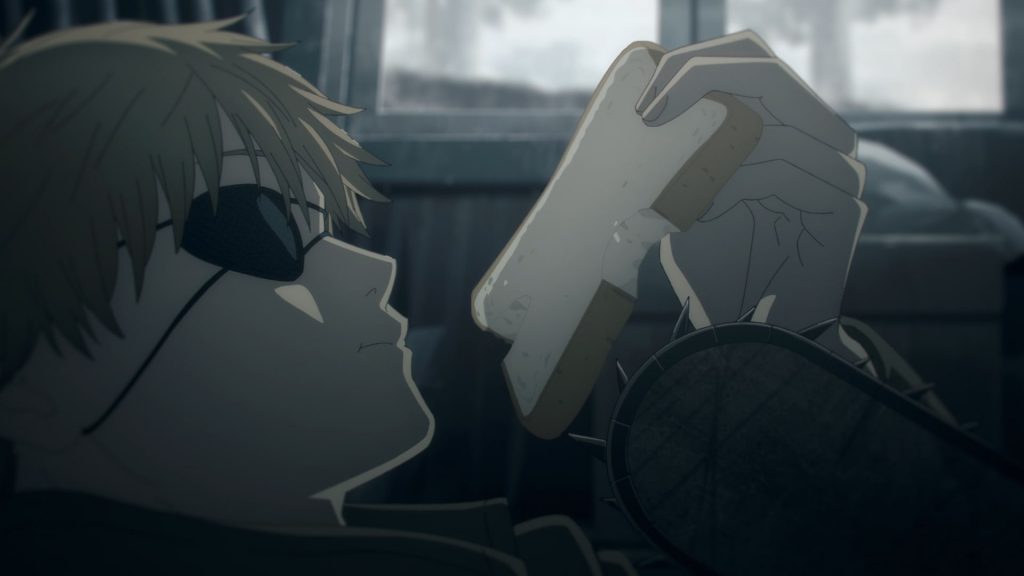 Denji's dreams aren't as lofty or far-fetched. Against, those dreams are so simple, somehow pitiful but giving us feeling downright endearing.
The first episode adapts the 55-page first chapter of Chainsaw Man and forgoes its frenetic pace and happens in a slower way that gives certain plot elements time to develop. By doing this, it not only conveys a similar atmosphere of sorrow and dread as Silent Hill 2's first act but also successfully eases the spectator into its grim setting.
Mappa brings Chainsaw Man's already-expanding universe a new breeze through animation, much to how Studio Bones converted the minimalist and static manga panels of One's Mob Psycho 100 into a sakuga masterpiece of an anime.
Mappa retains the feature-film animation quality for the entirety of Chainsaw Man's first episode while other anime franchises don't rise their budget until about the 20th episode. In some quiet scenes, you can see condensation building up on window sills and dew gathering on grass blades, giving the impression that Mappa ray-traced its 3D animated scenes using a GeForce RTX 4090 graphics card. In Chainsaw Man, Mappa skillfully blends hand-drawn animation with 3D modeling to create a fluid action sequence. Similar to the Dead Space plasma cutter, Denji cranks his chainsaw arms (and chainsaw head) into the skin of opponents with a gratifying, pulpy snap.
Chainsaw Man's demon pecking order is based on how much fear a devil's name inspires, as opposed to other shonen anime like Dragon Ball Z or JoJo's Bizarre Adventure where characters' relative strength levels are decided by their level of training or tactical prowess. Similar to how Resident Evil 4's Chainsaw Man is far scarier than the Las Plagas zombies, Denji becomes the fabled Chainsaw Man when he combines with Pochita and utterly decapitates the Zombie Devil. This former human has a bright but gloomy future ahead of him.
It remains to be seen if Chainsaw Man's legacy will enable it to surpass Attack on Titan: The Final Season, another side project of Mappa's, as the most significant anime to be released this decade. But if its first episode is any indication, it's unquestionably a contender.
Thank you for reading our blog about the most expected anime this year: Chainsaw Man. For the best and most unique Chainsaw Man merch, visit our store here: https://chainsaw-man.shop/.